Todd Verrone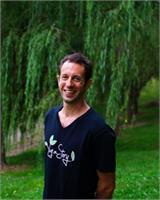 "I began yoga practice to counteract the overuse injuries of climbing and mountain biking. As my physical body healed, the psychological effects of yoga began to manifest: clear thinking, open heart, and relaxed mind. It was the discovery of these that set me on my yoga journey for good. I practice yoga because it feels good and is the only thing keeping me sane some days. I teach yoga to share what has been taught to me. My only goal is for others to become capable of finding their own path to contentment. I began my yoga studies at an Iyengar studio in Leeds, England, where I practiced for 4 years. During this time, I also attended a teacher training course at the Sivananda ashram in Kitzbühl, Austria. I began teaching in the UK, and have taught in AR at the (now gone) Center for Exercise and at the U of A in the HPER complex, both in Fayetteville. Now, I feel gratitude for my time teaching here, at Yoga Story."
When Todd is not on the mat, he enjoys rock climbing, mountain biking, hiking and adventuring with his wife and kids.
Todd Verrone instructs the following:
This is a 50 minute class.

WARM ~

A slower vinyasa flow similar to hot class but with less intensity and heat. A good break in the middle of the day that won't leave you a sweaty mess. You will be destressed and ready for the rest of your day. Great for all levels.




WARM ~ Unlike our flow classes, Explore takes you through a more Iyengar-based practice which emphasizes standing postures and refining alignment. Lots of hands-on assisting, pranayama and meditation. Great for all levels.