Lynn Hancock ~ Studio Owner/Director of Teacher Training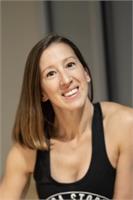 "My journey with yoga began in my early 20's as I was experiencing the stress of 'growing up' and had heard how relaxing yoga was. I started practicing in my duplex, with a book and magazines I bought. What I discovered, was a multifaceted practice with many branches, from challenging to peaceful and restorative. Yoga makes space for everyone. With each stage in my life, marriage and motherhood, I always found myself returning to yoga as I always felt grounded and challenged after I practiced. After discovering hot yoga, I was thrilled when Cindee opened Yoga~Story. When I teach, I love the look on someone's face when they have done a challenging pose for the first time, open a hip, melt into the mat or make a surprising realization about self and ability. When they let go, their struggle becomes their strength."
Lynn enjoys spending time with her husband and son, running, cooking, socializing and enjoying everything that Bentonville has to offer. She began her yoga journey 13 years ago and left the corporate world to become an AFAA certified personal trainer and 200 hour certified yoga instructor.
Lynn Hancock ~ Studio Owner/Director of Teacher Training instructs the following:
HOT! ~ A power vinyasa class emphasizing a dynamic flow of challenging poses. A vigorous practice-YOU WILL SWEAT! Monday 5:45 pm and Friday 8:45 am are 75 minute classes.
Recommended for experienced yogis, although beginners are welcome to participate keeping in mind modifications and pace for your level of activity. Bring a towel and water in a closed container.




Yoga Body Boost (or YBB as the regulars call it) starts with a vinyasa flow, adds HIIT in the middle and ends with traditional yoga stretches for a full body challenge and release! Set to high energy music, this class will make you move and sweat! We use an interval timer for our HIIT portion so that everyone can do what they can and break when they need to. Modifications and different intensity levels are available for each exercise. Water and mat towel are highly recommended. Class size limited to 20.




This is a 30 min class.

WARM

~ Create stabilization, strength and power in your core through a series of progressive exercises designed for every BODY! Through the use of pranayama, yoga bandhas and modern day core work, you'll engage, isolate and SWEAT! Knowing how to properly use your core helps relieve low back pain, supports running and lifting, and will assist your physical yoga practice.

*Cost $9, register on-line or at the studio. Included in monthly unlimited memberships.

*This class is not included in class packages or $30 for 30 introductory offer, but can be purchased as a $9 drop in.