Heidi Kaurin-Smith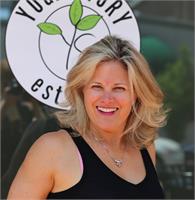 "I am inspired by how a regular yoga practice unlocks tight muscles and joints to allow greater freedom of movement. It's not a surprise I can move through my day with greater ease, my heart and mind open to more compassion for myself and others. The expert and novice can practice side by side and equally benefit from the same class. Both bring valuable truths of humility, tenacity, and grace to share with the community. In yoga, everyone is a student. Everyone is a teacher."
Heidi has lived in Bentonville for almost 20 years. When she's not on the mat, she enjoys watching her twin girls develop into vivacious women, laughing at her husband's corny jokes, and being nourished by rich friendships.
Heidi Kaurin-Smith instructs the following:
WARM ~ Learn the building blocks of a Power Vinyasa Flow. In this class we will break down the poses in a way that will help you develop a strong foundation in your practice. Discover the connection between your body and breath as we focus on alignment. The practice and methodology in this class will inspire you to flow! Great for beginners and also for advanced students who want to deepen their practice.