Brittany Ransom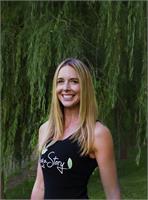 "After several stress fractures and mental exhaustion from years of competitive running, my doctor advised me to give yoga a try. I attended my first class in 2010, and walked out with a sense of peace that I had only ever experienced while running. For the first time, I was able to get out of my head and into my heart. I enrolled in teacher training in 2013, and shortly after graduation I found out that I was expecting. I was so grateful to have yoga to guide me through each stage of pregnancy, all the way to the end. That is the beauty of yoga—there is always a place for you on your mat, no matter your age, size, shape or ability. I always remind my students not to take themselves too seriously and to have fun! Yoga is not a competitive sport, it is an inward journey. All you have to do is show up and the rest will come."
When off the mat, Brittany loves spending her days with her wonderful husband, sweet baby boy and three dogs. She feels so blessed to be teaching yoga in her hometown, here at Yoga Story.
Brittany Ransom instructs the following:
HOT! ~ A power vinyasa class emphasizing a dynamic flow of challenging poses. A vigorous practice-YOU WILL SWEAT! Monday 5:45 pm and Friday 8:45 am are 75 minute classes.
Recommended for experienced yogis, although beginners are welcome to participate keeping in mind modifications and pace for your level of activity. Bring a towel and water in a closed container.