Erin Truitt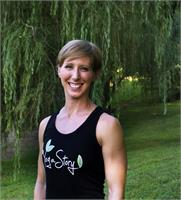 "As a high-energy person, I was hesitant to try yoga 10 years ago as I assumed it would be too slow and easy and therefore unable to hold my interest as a workout. Little did I realize how trying something new would improve my focus, balance, flexibility, strength and posture while helping me discover a necessity in my life to slow down on occasion. The concentration and self-reflection required to practice yoga also prevents me from comparing myself to others as I am simply engrossed in breathing through the challenging poses."
Erin loves playing and being goofy with her two young girls, watching movies and TV shows with her husband, baking healthy homemade snacks, singing, teaching fun exercises to other moms, hiking any of the Ozarks' beautiful trails and long-distance running.
Erin Truitt is currently not instructing any classes.