Ginger Davidson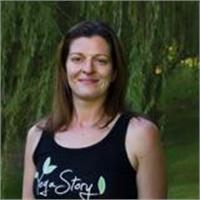 "In 2000 I took my first yoga class. I hated it. I was sore, I could barely do downward dog and what was with all the breathing. (I grew up with severe asthma and allergies I hated it when people told me to breathe!) But I LOVED Savasana—a chance to meditate, listen for the divine, be STILL! I had taken a course on meditation and Buddhism in college and had been meditating for a few years and loved the difference it made in my peace of mind. I was hooked, surely the other stuff would get easier, right? In 2002 I began to practice regularly in my home, and my journey to growth took on a whole new life of its own. Yoga has helped me recover and heal from a major trauma to my body. Yoga helped me to quit smoking in my earlier years of the practice. Yoga has helped me to understand the true difference between a reaction and a response. The added benefit was that my body transformed with my mind. My story to teaching stems from my desire and passion to help others heal in all aspects of their lives. Take some time with me on Tuesdays at 5:45 at Yoga Story's Down Dog to flow and find some healing, some growth and foster some stillness for your own peace of mind. "
Ginger Davidson has been a yogi for the last 17 years and has been in the Yoga Story community as a teacher since 2015. Her vinyasa classes focus on alignment, breath work and meditation. Off the mat Ginger likes to spend time with her family camping, hiking, and playing music. She also enjoys spending time and making music with friends during an annual pilgrimage to her hometown in Winfield, Kansas for the Walnut Valley Festival every September.
Ginger Davidson instructs the following:
WARM ~ A practice based on Brian Kest's long, slow deep method. This class will lead you through a series of poses that you hold for 5-10 breaths, followed by a deep stretch of the muscle activated during the pose. This practice is a must if you regularly if you are a runner, cross-fitter or desk worker! The majority of the class will be spent on your mat.

Registration is capped at 25. Pre-registration is recommended.




A slower paced practice with 45 minutes vinyasa yoga and 15 minutes of guided meditation. This practice will emphasize the fundamentals of meditation and emphasize proper alignment in poses for each individual body.

Great for all levels of practice, especially those wanting to deepen their meditation practice. Compliments more rigorous practices.

Registration capped at 12. This class is taught at The Down Dog.




ROOM TEMPERATURE

~

This class is 75 min.

Slow paced style of yoga with postures that are held for longer periods of time. Yin yoga is a different way of stretching, as the practice helps lubricate the joints vs. stretching the belly of the muscle. Great for all levels.