Arlen Goodyear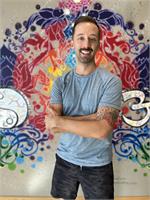 Inspired by author Stephen R. Covey's quote, "Strength lies in differences, not in similarities," Arlen began his yoga journey in the summer of 2014 appreciating that yoga accepts all bodies no matter how different they are. Intimidated by the chances of surrounding himself with perfectly, sculpted bodies, he attended his first class realizing quickly that being "on the mat" erased all fear, doubt, and judgment within him letting him spread with confidence, lengthen with strength, and fold with gratitude. Yoga brought more to him than the physical and mental advantages; with career relocations, he found friends, family, and community through yoga—a healthy support system to help him grow as an individual, personally and professionally.
When he's not on the mat, Arlen enjoys to cook, whether it is a complicated or uncomplicated process. "The simplicity of a grilled cheese sandwich that satisfies your hunger and offers comfort can remind you that life does not always have to be a stressful beef bourguignon."
Arlen Goodyear instructs the following:
HOT! ~ A power vinyasa class emphasizing a dynamic flow of challenging poses. A vigorous practice-YOU WILL SWEAT! Monday 5:45 pm, Thursday 5:45 pm, and Friday 8:45 am are 75 minute classes.
Recommended for experienced yogis, although beginners are welcome to participate keeping in mind modifications and pace for your level of activity. Bring a towel and water in a closed container.




HOT! ~ A power vinyasa class emphasizing a dynamic flow of challenging poses. Level 2 classes are designed for those who have a good understanding of the basic yoga postures, and have begun to explore a wider variety of poses and styles. The Level 2 student understands the relationship between breath and movement.

Monday 5:45 pm, Thursday 5:45 pm.






Celebrate National Dog Day and bring your furry best friend to the Bentonville Dog Park for Yoga with Dogs! Doga (Dog Yoga) is the practice of yoga with pet dogs. All friendly, well-behaved dogs are welcome.

9 am to 10 am at Bentonville Dog Park 2400 N Walton Blvd.




Cost - FREE!

Sponsored by Camp Bow Wow. Please bring a yoga mat and a leash for your pet.