Stephanie Kelly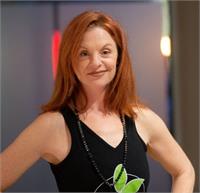 "I embarked on my yoga journey in the beginning of 2010, and have been actively engaged in my practice ever since. Driven by depression, and mundane day to day life routine, I summoned my out of shape chunky self, to search out something that might spark some hope in my life…..YOGA! I quickly realized that my mat was my sanctuary, and that my practice was providing me a platform to evolve, change, and eventually flourish. Self confidence, self discovery, self love, and happiness were just a few of the remarkable changes that began to take shape in my life."
When she's not on her mat, Stephanie enjoys spending time with her husband and their 3 dogs. She loves being outdoors, working in her garden, tending her chickens, growing dahlias, riding her bike, and laughing out loud.
Stephanie Kelly instructs the following:
HOT! ~ A power vinyasa class emphasizing a dynamic flow of challenging poses. A vigorous practice-YOU WILL SWEAT! Monday 5:45 pm and Friday 8:45 am are 75 minute classes.
Recommended for experienced yogis, although beginners are welcome to participate keeping in mind modifications and pace for your level of activity. Bring a towel and water in a closed container.




WARM ~ Combination of slow flow, ending with restorative postures utilizing props. Great for all levels.