Kelsi Zahl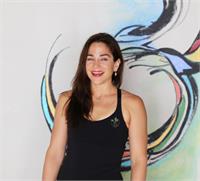 "For me, teaching yoga is sharing the art of living free - mind, body and spirit. Guiding people to the edge of their comfort zones and breathing with them in that space is one of my favorite places to be. I am a bit of an extreme artist, so I like to go all the way into the asanas and see what happens. I like to dance on the edge of discomfort and find the breath there...this is how I teach."
Kelsi is a Nebraska native who has spent the last 10 years in California and Arizona pursing an acting career and studying Ashtanga yoga. When Kelsi is not on the mat, she enjoys writing, singing, being in nature, cooking, making things and laughing.
Kelsi Zahl instructs the following:
HOT! ~ A power vinyasa class emphasizing a dynamic flow of challenging poses. Level 2 classes are designed for those who have a good understanding of the basic yoga postures, and have begun to explore a wider variety of poses and styles. The Level 2 student understands the relationship between breath and movement.

Monday 5:45 pm, Thursday 5:45 pm.






WARM ~

A slower vinyasa flow similar to hot class but with less intensity and heat. A step between beginner and hot flow.




A healthy approach to the Primary Series, join Kelsi for this 4 week introduction. Learn the discipline of self practice by learning the science behind the primary series. 90 minutes of asana practice.

This series begins Tuesday Oct 24th, and meets every Tuesday/Thursday from 6:00 am to 7:30 am at the Down Dog, through Thursday Nov 16th.

$160/8 classes or $25 one class

This series is limited to 12 per class. No drop in's, please reserve your spot on line.




There is always another layer to our yoga practice. Did you know that when you learn another language it actually heals your neuropathways? In this workshop, you will learn the history and begin to understand the meaning of the Yoga Sutras through the Yoga of Sound and Meditation.

$30 ~ monthly members receive a 10% discount. This workshop is nonrefundable and not valid with any other offer.




Myofascial release is a safe and very effective hands-on technique that involves applying gentile sustained pressure into the myofascial connective tissue restrictions to eliminate pain and restore motion.

Kelsi will guide you through this two hour exploration of myofascial self massage using sustained pressure and props.

Kelsi specializes in myofasical release body work and is a licensed massage therapist.

$25 - Monthly members receive a 10% discount. This workshop is nonrefundable and not valid with any other offer.