Kelsi Zahl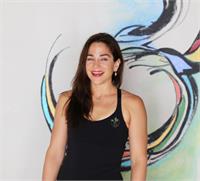 "For me, teaching yoga is sharing the art of living free - mind, body and spirit. Guiding people to the edge of their comfort zones and breathing with them in that space is one of my favorite places to be. I am a bit of an extreme artist, so I like to go all the way into the asanas and see what happens. I like to dance on the edge of discomfort and find the breath there...this is how I teach."
Kelsi is a Nebraska native who has spent the last 10 years in California and Arizona pursing an acting career and studying Ashtanga yoga. When Kelsi is not on the mat, she enjoys writing, singing, being in nature, cooking, making things and laughing.
Kelsi Zahl instructs the following:
HOT! ~ A power vinyasa class emphasizing a dynamic flow of challenging poses. A vigorous practice-YOU WILL SWEAT! Monday 5:45 pm and Friday 8:45 am are 75 minute classes.
Recommended for experienced yogis, although beginners are welcome to participate keeping in mind modifications and pace for your level of activity. Bring a towel and water in a closed container.




WARM ~

A slower vinyasa flow similar to hot class but with less intensity and heat. A step between beginner and hot flow.