Sarah Walker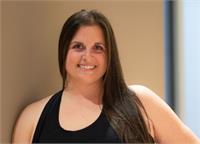 "When my yoga journey began, I instantly knew that it was what I was destined to do, and that it would change my life. I was always an active youth, playing many sports, including volleyball during college."
"After I lost my athletic activity, I found I was losing my strength, my energy, and mostly myself. I had practiced yoga on and off throughout my 20's, but didn't truly grasp the full realm of what yoga offers. In late 2014, I found myself overweight and unhappy in a sedentary lifestyle, I knew I needed a change and nothing seemed to spark that for me. I started regularly working out at the gym, which seemed natural as a former athlete, but it wasn't enough. I wasn't changing anything within myself. A few months after that, I was asked if I wanted to attend an intro to yoga class, that happened to be with our very own Lynn Hancock. After that night I was hooked. Something finally clicked. I have continued a regular, almost daily practice since that evening, and not only has it changed my body, but along with that my mind and spirit. I am excited to share with others the love and support that this community offers. Let go, let live, let love!"
When Sarah is not on the mat, she enjoys being outdoors, kayaking, cycling, or hiking. Photography, drawing and other artistic activities
keep her busy, as well as lots of DIY projects and home renovations!
Sarah Walker instructs the following:
HOT! ~ A power vinyasa class emphasizing a dynamic flow of challenging poses. A vigorous practice-YOU WILL SWEAT! Monday 5:45 pm and Friday 8:45 am are 75 minute classes.
Recommended for experienced yogis, although beginners are welcome to participate keeping in mind modifications and pace for your level of activity. Bring a towel and water in a closed container.




Yoga Body Boost (or YBB as the regulars call it) starts with a vinyasa flow, adds HIIT in the middle and ends with traditional yoga stretches for a full body challenge and release! Set to high energy music, this class will make you move and sweat! We use an interval timer for our HIIT portion so that everyone can do what they can and break when they need to. Modifications and different intensity levels are available for each exercise. Water and mat towel are highly recommended. Class size limited to 20.




WARM ~ Combination of slow flow, ending with restorative postures utilizing props. Great for all levels.