Beth Day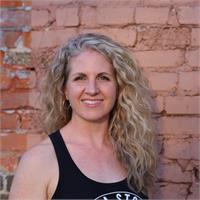 "My yoga journey began in high school with some VHS Power Yoga tapes my mom bought. I was fascinated by the physical and mental challenge yoga could provide, as well as the never ending possibilities for growth and transformation on the mat. Over the last 20 years, I have continued being a mostly self-educated student of yoga. I used many principles of yoga during the 13 years I worked as a doula (birth coach) and childbirth educator. I began teaching yoga 8 years ago and was amazed at how much deeper and more meaningful my practice became when I was focused on creating powerful experiences for my students. I love how yoga guides me into a unique mental state of clarity and creativity where I feel truly open to the universe and connected to the divine. Yoga has strengthened and empowered me through 4 pregnancies and births, as well as through baby-raising, and child-rearing. It has focused and challenged me during periods of growth. And it has guided me and held me together in times of sadness and grief. I can't imagine my life without yoga. It will be a lifelong pursuit."
Off the mat, Beth is a mom of 4 amazing kids. She loves a good adventure and has a bucket list a mile long. She enjoys music, art, literature, good food and drink, time spent in nature, leisurely bike rides, quality time with family and friends, and helping others.
Beth Day instructs the following:
WARM ~ A practice based on Brian Kest's long, slow deep method. This class will lead you through a series of poses that you hold for 5-10 breaths, followed by a deep stretch of the muscle activated during the pose. This practice is a must if you regularly if you are a runner, cross-fitter or desk worker! The majority of the class will be spent on your mat.

Registration is capped at 25. Pre-registration is recommended.