Anne Suarez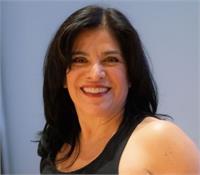 "As an avid runner and fitness enthusiast, I walked into my first yoga class while on vacation in Colorado. I was curious to experience what yoga might be like. Could I become more flexible? Would I be able to move into the physical postures as instructed? It was during this yoga class within full view of Pike's Peak that something clicked from within my body--I felt connected in a profound way, breath, body, mind and spirit. As my yoga practice grew, I knew that I wanted to learn more about yoga. In 2014 I received my 200 HR RYT. Ever the student, I completed my 500 HR RYT with an emphasis on Yoga Therapy Level 1. Further studies include: Balanced Athlete Level One Certification, Yoga Nidra, Yoga of the Heart--Cardiac and Cancer Certification, and LifeForce Yoga Practitioner Training for Depression and Anxiety. I am grateful to the many wonderful teachers and students that I have worked with--the gift of yoga is meant to be shared."
When she's not on her mat, Anne enjoys spending time with her family and Westie, traveling, exercising, hiking, reading and being a foodie. Walking the Camino de Santiago de Compostela is her next major endeavor and dream. "Let the beauty of what you love be what you do." - Rumi
Anne Suarez instructs the following:
This is a 50 minute class.

WARM ~

A slower vinyasa flow similar to hot class but with less intensity and heat. A good break in the middle of the day that won't leave you a sweaty mess. You will be destressed and ready for the rest of your day. Great for all levels.




HOT! ~ A power vinyasa class emphasizing a dynamic flow of challenging poses. A vigorous practice-YOU WILL SWEAT! Monday 5:45 pm, Thursday 5:45 pm, and Friday 8:45 am are 75 minute classes.
Recommended for experienced yogis, although beginners are welcome to participate keeping in mind modifications and pace for your level of activity. Bring a towel and water in a closed container.




This is a 50 min. class.

WARM

~ Step away from your stressful day, clear you mind, and reset. The Zen Hour is a yoga class that encompasses traditional yoga practices of breathing, mindfulness, visual imagery, affirmation, and physical postures. These practices can be adapted by each participant to promote enhanced emotional, mental and physical well-being.

The class is held at The Down Dog location. Registration capped at 12.