Erica Budway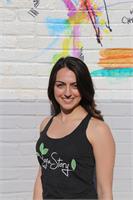 "Though I began practicing yoga as a method for physical fitness, my practice has evolved into one that is as emotional and spiritual as it is physical. I love yoga because I truly believe it is a lifelong journey that is constantly evolving and growing with everyone, and there is no limit to what you can achieve in your practice! With my sense of humor and creativity, I hope to bring a fresh perspective to your existing practice."
Off the mat, Erica loves skiing, reading, baking and being surrounded by music.
Erica Budway is currently not instructing any classes.