Rachel Malo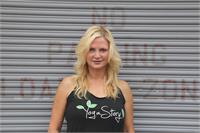 "Earlier in my life I fractured a vertebrae. I recovered to return to an active lifestyle, but still had residual pain and limited mobility. Then a life-changing mountain bike accident left me with debilitating back and hip pain. Through these traumas, I found yoga and learned to take a holistic approach to my own healing. This has given me a sincere desire to help others overcome their own personal challenges, whatever they may be."
Off the mat Rachel enjoys walking,hiking, reading, meditation and spending time with her family.
Rachel Malo is currently not instructing any classes.