Rachel Malo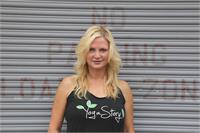 "Earlier in my life I fractured a vertebrae. I recovered to return to an active lifestyle, but still had residual pain and limited mobility. Then a life-changing mountain bike accident left me with debilitating back and hip pain. Through these traumas, I found yoga and learned to take a holistic approach to my own healing. This has given me a sincere desire to help others overcome their own personal challenges, whatever they may be."
Off the mat Rachel enjoys walking,hiking, reading, meditation and spending time with her family.
Rachel Malo instructs the following:
This is a 50 minute class.

WARM

~ This class is appropriate for all students seeking the benefits of a very relaxing, gentle, and nourishing practice. The soothing combination of gentle hatha and deep restorative work improves range of motion and joint mobility while reducing pain and the effects of stress. Students with injuries, arthritis, or other chronic conditions are welcome in these classes. Practitioners with limitations related to age or size as well as students with a more vigorous yoga practice will benefit from this practice. No prior yoga experience required.

Registration is capped at 15. Pre-registration is highly recommended.




WARM~The focus of this class is to help you reduce muscle soreness and stiffness with the use of therapy balls. This class is for anyone looking to aid in recovery and ease pain before and after exercise, running and training. Improve mobility, circulation, and reduce your risk of injury.

No prior yoga experience necessary. Class size limited to 12, and registration is highly recommended.

This class is great for everyone, especially runners, cyclists and triathletes looking to recover faster, perform better and have less pain. You do not have to be an athlete to attend this class.