Tamera Jones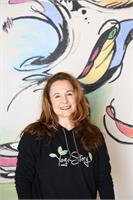 "My yoga journey began with a New Year's resolution in 1998, a willing spirit and short stack of VHS tapes. Many years of practice and a high-speed car crash have furthered my interest and respect for the practice of yoga. I enjoy guiding each class into an experience that brings about nurturing and realignment of muscles and joints. My goal is for each student to leave class radiating with a powerful, life-changing combination of energy, relaxation, lightness and balance. I look forward to meeting you and working together to deepen your yoga experience."
Off the mat Tamera enjoys homeschooling her children, long hikes with her kids and dogs, being on the water with her husband, cooking, reading, and photography.
Tamera Jones is currently not instructing any classes.