Greg Johnson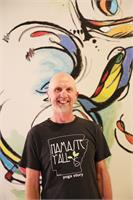 "I found yoga 5 years ago after a running injury. I found that it not only helps to stretch tight muscles, it stretches the mind even more. I practice yoga daily. Even when I can't make it to the studio, I practice at home and recommend that all students to do the same. The thing I love the most about yoga is that it isn't a competition - unlike everything else in our lives. I am grateful that I get to go to a place where I can practice right next to an advanced yogi or a newbie. Your practice is your own. There is no judgment."
Off the mat, Greg enjoys running all distances - having completed 10 marathons, over 40 half marathons and more 5k and 10k's than he can count. Greg and his wife Liz love to hike and travel and spend as much time as they can with their dogs, Powder, Grace and Hamilton.
Greg Johnson is currently not instructing any classes.