Bryttney Miller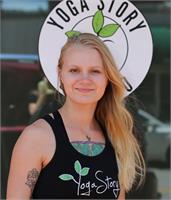 "My yoga journey began in a time of my life when I felt very alone. I was in college in a new state and feeling overall pretty lost. I stumbled upon a community that didn't judge. A community that knew what you needed and let you be free to explore that need. Yoga taught me to accept myself and that it's okay to be uncomfortable in new experiences. My greatest joy is spreading that feeling. I live to show others that by coming to your mat for the smallest amount of time each day is self love. It's a wonderful feeling to know your mat will always catch you if you need to fall.
I got my 200-hour RYT training in Springfield, Missouri roughly 3 years ago. Since then I have explored
other certifications such as Reiki, BUTI Yoga, as well as Paddlefit. I love to learn and I'm always looking for ways to further challenge myself within my practice. I believe it is important to always be a student first."
When not on the mat, Bryttney is exploring the world with her daughter, getting lost in a book,
and spending time with her family.
Bryttney Miller instructs the following:
HOT!

~ A power vinyasa class emphasizing a dynamic flow of challenging poses. A vigorous practice-YOU WILL SWEAT!

Recommended for experienced yogis, although beginners are welcome to participate keeping in mind modifications and pace for your level of activity. Bring a towel and water in a closed container.