Judy Moss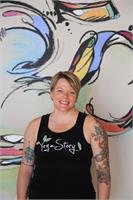 "I am a RYT 200 from Bentonville, AR. Yoga has been an integral part of my life for the past three years. For me, the practice is all encompassing allowing the mind and body to work in unison with the breath, creating the balance I so desperately crave."
"There is an old Irish saying, "You are the place where I stand on the day when my feet are sore."--West Kerry. The mat is that place for me because my practice will meet me exactly where I am with no expectations of what is to come and without remembering anything that has already gone. I approach my classes very much the same in that I encourage you to treat each time you practice as a new opportunity to explore where you are at the moment."
When Judy is not on the mat, she home-schools her son, enjoys hiking with her family, and always enjoys the company of a great book.
Judy Moss is currently not instructing any classes.