Judy Moss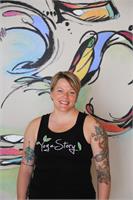 "I am a RYT 200 from Bentonville, AR. Yoga has been an integral part of my life for the past three years. For me, the practice is all encompassing allowing the mind and body to work in unison with the breath, creating the balance I so desperately crave."
"There is an old Irish saying, "You are the place where I stand on the day when my feet are sore."--West Kerry. The mat is that place for me because my practice will meet me exactly where I am with no expectations of what is to come and without remembering anything that has already gone. I approach my classes very much the same in that I encourage you to treat each time you practice as a new opportunity to explore where you are at the moment."
When Judy is not on the mat, she home-schools her son, enjoys hiking with her family, and always enjoys the company of a great book.
Judy Moss instructs the following:
HOT! ~ A power vinyasa class emphasizing a dynamic flow of challenging poses. A vigorous practice-YOU WILL SWEAT! Monday 5:45 pm, Thursday 5:45 pm, and Friday 8:45 am are 75 minute classes.
Recommended for experienced yogis, although beginners are welcome to participate keeping in mind modifications and pace for your level of activity. Bring a towel and water in a closed container.




This is a 50 minute class.

WARM

~ This class is appropriate for all students seeking the benefits of a very relaxing, gentle, and nourishing practice. The soothing combination of gentle hatha and deep restorative work improves range of motion and joint mobility while reducing pain and the effects of stress. Students with injuries, arthritis, or other chronic conditions are welcome in these classes. Practitioners with limitations related to age or size as well as students with a more vigorous yoga practice will benefit from this practice. No prior yoga experience required.

Registration is capped at 15. Pre-registration is highly recommended.