Sherry Fitzgerald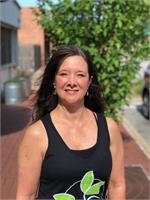 "I have been a health and fitness enthusiast all my life; actively taking and teaching various exercise classes since college. I started practicing yoga at home 20 years ago to help relieve neck and shoulder stiffness caused by
my working in an office all day. Little did I know how much more yoga would bring to my life! Not only did yoga release muscle tension, but I felt stronger and calmer which enabled me to deal with stress better. Yoga provides me a sense of balance! As a result, I have been practicing, discovering and learning about yoga ever since. I value how
yoga brings me fully present in the moment, while challenging me to increase my strength both physically and mentally - cultivating the mind-body connection. Helping others find their path and strength within yoga is what motivates me to teach. Favorite quotes to live by: "Live what you love." & "You are stronger than you think."
When Sherry is not on the yoga mat, she's reading a good book, spending time with friends or outdoors hiking or biking the trails of Northwest Arkansas and experiencing the adventures her two golden retrievers provide on daily walks.
Sherry Fitzgerald instructs the following:
HOT! ~ A power vinyasa class emphasizing a dynamic flow of challenging poses. A vigorous practice-YOU WILL SWEAT! Monday 5:45 pm and Friday 8:45 am are 75 minute classes.
Recommended for experienced yogis, although beginners are welcome to participate keeping in mind modifications and pace for your level of activity. Bring a towel and water in a closed container.