Jeanetta Irving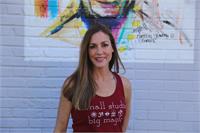 "I moved to Bentonville, Arkansas in 2006 and the move was accompanied by a dramatic life change. Previously I traveled extensively completing accounting work, but once moving to Arkansas I was given the chance to stay home with my two daughters. Needing a break from the busy (and stressful!) life of being a 24-hour Mom, I accepted a neighbor's invitation to attend a yoga class. Right away I fell in love with yoga! The combination of exercise, peace, and no expectations for an hour allowed me to slow down, reflect and grow in a peaceful environment. In 2008, I began teaching yoga at a local fitness club and did so for several years. I enjoyed promoting health and healing so much, I took a break from teaching yoga to obtain my nursing degree. Shortly after graduating, I went back to practicing yoga and have continued to practice several times a week. Being an active yoga practitioner provides me an overall feeling of wellness that I love to share with other members of our community!"
Off the mat Jeanetta loves to work in her yard, garden, cook and spend time with her family and three cats!
Jeanetta Irving instructs the following:
HOT! ~ A power vinyasa class emphasizing a dynamic flow of challenging poses. A vigorous practice-YOU WILL SWEAT! Monday 5:45 pm, Thursday 5:45 pm, and Friday 8:45 am are 75 minute classes.
Recommended for experienced yogis, although beginners are welcome to participate keeping in mind modifications and pace for your level of activity. Bring a towel and water in a closed container.




WARM ~

A slower vinyasa flow similar to hot class but with less intensity and heat. A step between beginner and hot flow.