Rachel Ackerman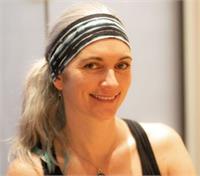 "Born with misshapen feet, I spent formative years tripping over my toes and lurching around on crutches. Though surgeries straightened my crooked bones, I grew increasingly disgusted by and disconnected from my own body. Anxiety, depression, and eating disorders were frequent companions from pre-adolescence through adulthood. My first foray into yoga ended with a case of hives, which I used as an excuse to avoid the practice for another fifteen years.
At age forty, I returned to the mat when my workplace offered lunchtime yoga. Despite a lifelong aversion to physical exertion, the serenity that followed each session proved addictive. To my surprise, I even grew to appreciate sore muscles and dripping sweat—although savasana is still one of my favorite poses. Yoga transforms self-consciousness into gratitude, offers healthy tools to cope with stress, and makes me feel at home in my own skin. As my practice continues to evolve, it nourishes my mind, body, and spirit. It is an honor and privilege to share this gift with others."

Off the mat, Rachel cherishes time with her sweet spouse and sassy kitty. She loves teaching, learning, making art, hanging with friends, and being among trees.
Rachel Ackerman instructs the following:
ROOM TEMPERATURE ~ Slow paced style of yoga with postures that are held for longer periods of time. Yin yoga is a different way of stretching, as the practice helps lubricate the joints vs. stretching the belly of the muscle. Great for all levels.




WARM ~ A practice based on Brian Kest's long, slow deep method. This class will lead you through a series of poses that you hold for 5-10 breaths, followed by a deep stretch of the muscle activated during the pose. This practice is a must if you regularly if you are a runner, cross-fitter or desk worker! The majority of the class will be spent on your mat.

Registration is capped at 25. Pre-registration is recommended.