Sharlotte Fedewa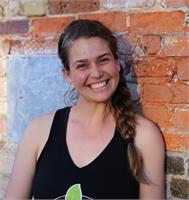 My yoga journey began in 2008 when I found out that my college dorm offered free yoga classes -- after the first class, I was hooked. I loved the way my body felt after doing yoga. Even to this day, nine years later, I still love how I can always come to my mat and melt away the world for an hour or two. Yoga helped me concentrate better in school and manage the stress of my job. On my 22nd birthday, August 29th, 2011, my life took a life transformational turn when I dragged my sister Katie, with me to Italy for an intensive 200-Hour Yoga Teacher Training. After a month of waking up at 6 am for the Ashtanga primary series and learning that yoga was much more than just asana, I became a yoga teacher. My life was absolutely transformed, and I decided I wanted everyone to feel the way I felt when I practiced yoga.
Besides yoga, Sharlotte loves hanging out with her family, her daughter, Roslyn, son, Sage and her amazing husband, Joshua. In addition to hiking, hooping, cooking, crafting, and (her very favorite) traveling! She's also learning to play the ukulele.
Sharlotte Fedewa instructs the following:
In this class your toddler will learn how to connect with their body and learn mindfulness techniques. kids love games, activities, songs and your complete attention. These exercises are for your toddler but they are also for mommy, daddy, grandparents or caretakers, too! Your toddler and you will have fun learning yoga poses, breathing techniques, partner yoga and body awareness activities. Come find peace in chaos with this playful yoga class.

Classes sold separately. Discount for monthly members applied at checkout.




AGES 9 MONTHS TO PRESCHOOL.




HOT!

~

Wednesday

50 Min / Friday 60 min.

- A power vinyasa class emphasizing a dynamic flow of challenging poses. A vigorous practice-YOU WILL SWEAT!


Recommended for experienced yogis, although beginners are welcome to participate keeping in mind modifications and pace for your level of activity. Bring a towel and water in a closed container.




WARM ~ A slower-paced vinyasa class in a warm (80-85 degrees) room. This class is great for beginners or experienced yogis.