Sharlotte Fedewa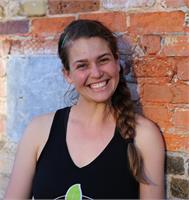 My yoga journey began in 2008 when I found out that my college dorm offered free yoga classes -- after the first class, I was hooked. I loved the way my body felt after doing yoga. Even to this day, nine years later, I still love how I can always come to my mat and melt away the world for an hour or two. Yoga helped me concentrate better in school and manage the stress of my job. On my 22nd birthday, August 29th, 2011, my life took a life transformational turn when I dragged my sister Katie, with me to Italy for an intensive 200-Hour Yoga Teacher Training. After a month of waking up at 6 am for the Ashtanga primary series and learning that yoga was much more than just asana, I became a yoga teacher. My life was absolutely transformed, and I decided I wanted everyone to feel the way I felt when I practiced yoga.
Besides yoga, Sharlotte loves hanging out with her family, her daughter, Roslyn, son, Sage and her amazing husband, Joshua. In addition to hiking, hooping, cooking, crafting, and (her very favorite) traveling! She's also learning to play the ukulele.
Sharlotte Fedewa instructs the following:
A 45 minute of fun yoga flow, interactive themes and yoga games.

Kid's yoga will help your child express body awareness and find tools to balance ever changing feelings. We do this through breath awareness, story telling, yoga poses, yoga games, vocal toning and partner poses. Parents of kids 5 and younger must attend class. All parents are encouraged to attend and play!

Kid's yoga is suitable for children ages 4-8. Parent attendance required for children under 5 years, but all parents are encouraged to attend and join in on the adventure!

Pricing Options

Family for One - $12 per class
Family for Two - $15 per class
Family for Three or More - $20 per class

If a parent is attending class, please include yourself when selecting the pricing option.

Member's are free! Select Kid's Yoga Member's Only option when booking.




The health benefits of yoga during pregnancy is almost endless.

This practice is safe and healthy for you and your developing baby, can help form child/mom bonds, create community with other pregnant women, and prepare you for child birth. You will learn how to bring awareness to your body through strengthening poses, breath awareness, vocal toning, stretching and mindfulness exercises. This is a power practice in a non-heated room.

8 classes, Saturday's 11:30-12:30 at Yoga Story. September 8 thru October 27. Next series begins January 5 thru February 23.

Drop in $20 or purchase 8 class series for $140.




Monthly members receive a 10% discount on individual class or series.

Prenatal classes are non-refundable, not eligible for transfer and not valid with any other offer.