Courtney Sturm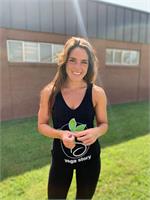 "My classes bring a mix of intelligent sequencing, internal depth, breath work and challenging movement that will leave you feeling both energized and grounded. I inspire my students to practice self awareness, confidence and self love on and off the mat. I promote fluidity through asana, letting go of the mental chatter while encouraging your own experience. I teach to all levels , meeting my students with no judgement I invite them to express themselves through a moving meditation that's authentic to them."
Courtney grew up in Wichita, Ks. In 2004 she moved to New York City to pursue her acting career! As a performer with a dance background Courtney was naturally drawn to yoga. She's been practicing for the past decade and began teaching in 2013 after completing her 200 hour RYT yoga training at Yoga to the people in New York.
Courtney Sturm instructs the following:
WARM ~

A slower vinyasa flow similar to hot class but with less intensity and heat. A step between beginner and hot flow.




HOT! ~ A power vinyasa class emphasizing a dynamic flow of challenging poses. A vigorous practice-YOU WILL SWEAT! Monday 5:45 pm and Friday 8:45 am are 75 minute classes.
Recommended for experienced yogis, although beginners are welcome to participate keeping in mind modifications and pace for your level of activity. Bring a towel and water in a closed container.