Benjamin Cary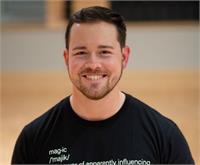 I have a passion for helping people unlock their full potential through cultivating richer, less restricted, more self-actualized lives. For a long time my life felt empty, so I tried to fill it with anything that I thought would make me happy; material things for the most part. Instead, it made me feel overwhelmed, busy, stressed out, overstimulated and anxious. So I learned how to create space. With space I have the room to grow, expand, open my heart, and open my mind. In that space wonderful things have come into my life. Now when I feel empty, I find space, and in the space, I am full.
Outside of yoga, Ben likes to play basketball, hike, backpack, and mountain bike. He also enjoys playing the flute and piano.
Benjamin Cary instructs the following:
This is a 50 minute class.

WARM ~

A slower vinyasa flow similar to hot class but with less intensity and heat. A good break in the middle of the day that won't leave you a sweaty mess. You will be destressed and ready for the rest of your day. Great for all levels.