Milo Fish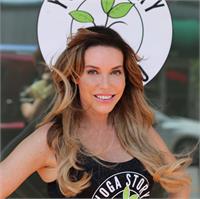 "Yoga is my moving meditation. It is my therapy. It is how I work through every challenge in life. Through yoga I have learned to be in the present moment, breathe through any of life's challenges & keep my mind clear, calm.

Through my yoga classes I teach how to stay out of your head and be in the present. How to breathe through feelings so you can release them. How to keep a sense of peace through keeping your mind clear. Moving through a challenging physical practice can bring you to the place where you can begin to train the mind. I like to challenge the body to get to the mind. Your real power is in your focus, your determination. My passion is helping people learn to live in their power."
Off the mat Milo enjoys boxing, barre, strength training, reading (she reads 1-3 books a week!) and spending time with her family.
Milo Fish instructs the following:
WARM ~

A slower vinyasa flow similar to hot class but with less intensity and heat. A step between beginner and hot flow.




HOT! ~ A power vinyasa class emphasizing a dynamic flow of challenging poses. A vigorous practice-YOU WILL SWEAT! Monday 5:45 pm and Friday 8:45 am are 75 minute classes.
Recommended for experienced yogis, although beginners are welcome to participate keeping in mind modifications and pace for your level of activity. Bring a towel and water in a closed container.